Gadir Systems Ltd. is a distributor for central cooling and heating systems for the Israeli market.
Gadir Systems Ltd. is a private company established in 2009. The company is a part of Gadir Group which has 30 years of experience in the energy systems and energy conservation field.
Gadir Systems distributes air or water cold chillers, Roof top packages, Air handling units, heat pumps, tankless instant water heaters and supplementary equipment for the Israeli market. All products distributed products are energy efficient.
The company employs a strong technical and marketing staff which includes mechanical engineers, air conditioning technicians, marketing team and professional administrative staff. The company supplies training, service and warranty with all distributed products.
Among our customers are leading air conditioning and heating contractors companies, top consulting agencies entrepreneurs, consultants, business and public organizations from wide variety of sectors. Examples of clients include: industrial factories, large company buildings, universities, hospitals, retirement homes, government facilities, commercial centers leading firms and groups, and private sector through installers nationwide.
With a strong reputation of Gadir Group in the energy management and conservation fields, and with quality engineering and professional staff, Gadir Systems maintains strong relationship with the majority of leading business and public organizations at the Israeli market.
Gadir Systems is a registered contractor in Israel.
The company is a certified ISO 9001: 2015.
Gadir Sysrems represents the following manufacturers in Israel:
Clivet: a leading European company which is a part of Midea Group. Clivet designs, produces and distributes systems for air conditioning, heating, fresh air and purification with a wide range of solutions for residential, commercial and industrial applications.
Established in Feltre, Belluno in 1989. During these last 30 years Clivet has developed an innovative range of products and systems dedicated to the needs of different types of installation, becoming a leader in some important segments of the air conditioning market such as shopping centers, multiplex cinemas, trading centers, hospitals, highly crowded areas and commercial use areas in general.
As of today, the group employs a staff of 700 employees. Clivet has six branches: in England, Spain, Germany, the Arab Emirates, India and Russia.
Today Clivet covers an operation area of 50.000 m2 sited in Feltre (Belluno), Italy.
The distribution network can count on forty agencies in Italy and fifty overseas distributors.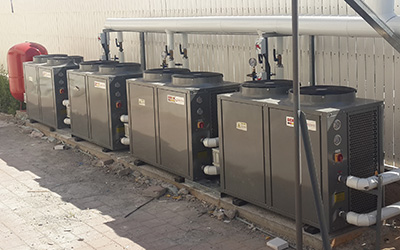 MTA (Italy): air/water cooled/heating chillers for commercial and industry applications. MTA is represented in Israel for about 30 years. MTA was founded in1982 in Northern Italy and currently employs over 400 individuals worldwide. They run three production plants with total 58,000 m2 production area. MTA markets chillers in 80 countries; chillers range 1.4-1,800 kw for commercial and industrial usage.
Deron (China): heat pumps for central hot water and heating systems. Gadir systems supplied heat pumps for thousands installations at the business, public and private sectors. DERON is one of the leading professional heat pump manufacturers, with approximately 350 employees and 30,000 m2 production area in Guangzhou China. DERON also runs a heat pump R&D center with a team of 28 technicians and the laboratory attained EN14511 certification from the TUV international laboratories.
i-Sol: A registered brand name produced by Gadir Systems. I-Sol is an energy efficient heat pump for high temperature and for swimming pools, at country clubs, sport centers, hospitals, hotels, retirement homes, factories, public and private facilities.
Atmor Industries Ltd. Gadir Systems ltd is a sole distributor in Israel for ATMOR Thermo –  an instant tank waterless line with heating capacity of 13-36 KW.  Atmor is a part of Ariston Group and one of the leading manufacturers of Electric Instant Water Heaters in the world. In the last 30 years Atmor has sold over 2 Million heaters all over the world, under Atmor brand and "Private Label" on an OEM basis. Amongst the prominent markets are: UK, USA, Russia, Latin America, East Europe, Philippines, Singapore, Israel and many other countries all over the globe.  Atmor products are certified by the company's Quality Management System in compliance with ISO 9001 and all products carry approval by UL, TUV, BEAB, CCC, CE, and other major standard institutes, include the Israeli standard institute.
Gadir Systems expand its business by distributing complimentary solutions for air conditioning, heating and central hot water systems through the use of  including energy saving machines and components.
 Our company's Goals:
Provide the knowledge, updated technology and sate of the art products and equipment to the benefit of our clients.
Provide the best and most comprehensive solution based on our client's specific needs.
Supply training, know-how and professional service with the highest standards.
Continue to improve our company's products and service.